Are you tired of dull, unkempt nails that don't match your vibrant personality? In this comprehensive guide, we'll walk you through all you need to know about manicures and pedicures, taking you through nail benefits, pros and cons and so much more. So, sit back, relax, and let us transform your nails into works of art.
The Art of Manicure
What is a Manicure?
At its core, a manicure is not just about painting your nails in pretty colours; it's a form of self-expression, self-care, and a symbol of personal grooming. Manicure comes from the French word "manicure," which means "care of the hands." It involves a series of treatments designed to enhance the health and appearance of your nails and hands.
Types of Manicure
Basic Manicure: This is the foundation of all manicures. It includes trimming, shaping, and buffing the nails, followed by a moisturizing hand massage. A simple and effective way to keep your nails looking neat.
French Manicure: Known for its timeless elegance, the French manicure features a natural pink or nude base with white tips. It's a classic choice for those who want a polished, understated look.
Gel polish: Gel polish offers long-lasting colour and shine. It's cured under UV light, ensuring your manicure stays flawless for weeks.
Acrylic: Perfect for those who want longer, more dramatic nails. Acrylics are applied to your natural nails and can be customized with various colours and designs.
Shellac: Combining the best of both worlds, Shellac is a hybrid of gel and traditional polish. It offers durability without the commitment of acrylics.
Nail Art: If you're feeling bold, why not add some artistry to your nails? Nail technicians can create intricate designs, from florals to abstract patterns.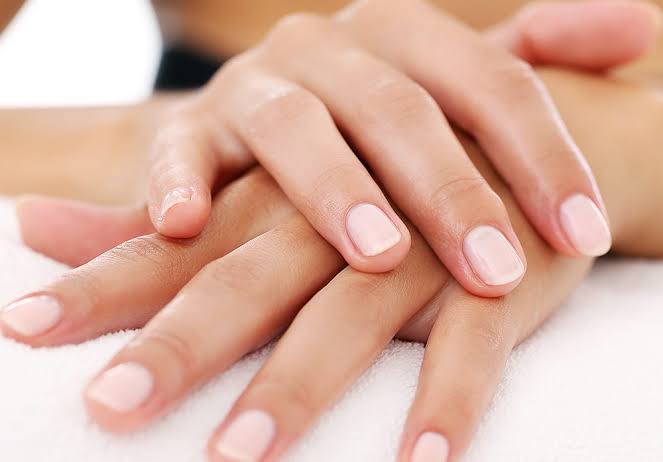 Manicure Techniques
At Tres Chic Beauty Bar, we pride ourselves on employing the latest and most effective manicure techniques to ensure your nails receive top-tier care. Our expert technicians follow these steps meticulously:
Nail Evaluation: We start with a thorough evaluation of your nails, considering their shape, length, and condition. This assessment helps us determine the best approach for your manicure.
Cleaning and Soaking: Your nails and hands are gently cleaned to remove any impurities. Afterwards, they are soaked in warm, soapy water to soften the cuticles and prepare the nails for shaping.
Shaping and Buffing: Our skilled technicians will carefully shape your nails to your desired length and style. We pay special attention to maintaining nail health during this process. Buffing follows, ensuring a smooth surface for polish application.
Cuticle Care: Cuticle maintenance is crucial for healthy nails. We gently push back the cuticles and trim any excess to create a neat appearance.
Massage: The relaxation continues with a soothing hand massage using hydrating lotions or oils. This step not only feels amazing but also promotes circulation and skin health.
Polish Application: Now, it's time for the fun part. You can choose from our extensive range of nail colours or opt for a classic French manicure. Our skilled technicians ensure a flawless application for long-lasting results.
Drying: If you've chosen a gel or shellac manicure, we use UV light to cure the polish, guaranteeing it stays chip-free for weeks.
Pros of Manicure:
Enhanced Nail Health: It can strengthen your nails, preventing them from becoming brittle or chipped.
Improved Hand Hygiene: Regular manicures include thorough cleaning, reducing the risk of infections.
Boosted Self-Confidence: Beautiful hands and nails can increase your self-esteem and leave a lasting impression.
Relaxation: The hand massage is a soothing experience, relieving stress and tension.
Long-Lasting Color: Gel and acrylic manicures offer extended wear, keeping your nails vibrant for weeks.
Cons of Manicure:
Cost: Some treatments, especially nail art or specialized options, can be pricey.
Time-Consuming: A full manicure can take some time, so be prepared for a dedicated session.
Risk of Damage: Overuse of acrylics or gels without proper care can weaken your natural nails.
The Magic of Pedicure
What is Pedicure?
Pedicure is more than just aesthetics. It's about caring for your feet, ensuring they remain healthy, comfortable, and ready to take you wherever you want to go. The word "pedicure" has its roots in the Latin words "pes" (foot) and "cura" (care), emphasizing the importance of foot maintenance.
Types of Pedicure
Basic Pedicure: A thorough cleaning, trimming, and buffing of the toenails, followed by a relaxing foot soak and massage. The perfect remedy for tired feet.
Spa Pedicure: Take the basic pedicure up a notch with the addition of exfoliation, a hydrating mask, and paraffin wax treatment. It's pure bliss for your feet.
Gel Pedicure: Gel pedicures offer extended wear and high shine for your toenails.
Callus Removal: Ideal for those with rough, callused feet, this pedicure focuses on removing hardened skin, leaving your feet soft and smooth.
Medical Pedicure: For individuals with specific foot issues like ingrown nails or fungal infections, a medical pedicure performed by a podiatrist may be necessary.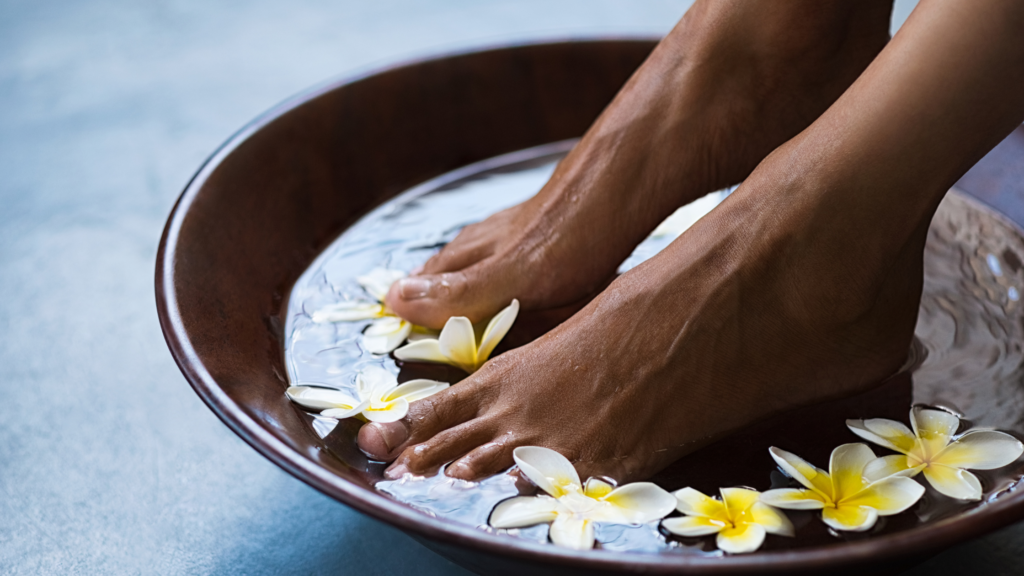 Pros of Pedicure:
Improved Foot Health: It will help maintain healthy feet, reducing the risk of issues like ingrown toenails.
Foot Comfort: Relaxing foot soaks and massages relieve foot pain and discomfort.
Enhanced Circulation: The foot massage can boost blood circulation, promoting overall well-being.
Prevention: Regular pedicures can prevent common foot problems, such as calluses and fungal infections.
Cons of Pedicure:
Hygiene Concerns: Inadequate sterilization practices in salons can lead to infections.
Ingrown Nails: Improper cutting may cause painful ingrown toenails.
Time Investment: Pedicures also require a time commitment, so plan accordingly.
Pedicure Techniques
When it comes to pedicures, our approach is just as meticulous and pampering:
Foot Soak: We begin with a relaxing foot soak to soften the skin and prepare your feet.
Nail Trimming and Shaping: Your toenails are trimmed to your desired length and shaped for a clean, polished look.
Exfoliation: For spa pedicures, we use exfoliating scrubs to remove dead skin cells and reveal soft, smooth feet.
Callus Removal: Our technicians skillfully remove calluses and rough skin, leaving your feet feeling renewed and rejuvenated.
Mask and Paraffin Treatment: Spa pedicures include the application of a hydrating mask and a warm paraffin wax treatment, providing deep moisturization and relaxation.
Massage: A foot and calf massage is the ultimate indulgence, promoting relaxation and relieving tension.
Polish Application: Just like with manicures, you can choose from a wide selection of nail colours for your feet. Our technicians ensure precise application.
Drying: Gel pedicures receive the same UV light treatment to ensure long-lasting results.
DIY Manicure and Pedicure: Should You or Should You Not
While visiting a professional like Tres Chic Beauty Bar for a manicure and pedicure is a luxurious treat, there may be times when you want to maintain your nails at home. Here's a concise guide to achieving a DIY manicure and pedicure:
DIY Manicure:
Gather Your Tools: You'll need a nail file, nail clippers, cuticle remover, a nail buffer, nail polish remover, cotton balls or pads, and your favourite nail polish.
Prep Your Nails: Start by removing any existing nail polish. Trim and shape your nails using the file and clippers. Gently push back your cuticles with the cuticle remover.
Soak and Exfoliate: Fill a bowl with warm, soapy water and soak your hands for a few minutes. Use a scrub or exfoliating tool to remove dead skin cells.
Moisturise: Apply a rich hand cream or cuticle oil to keep your hands and cuticles soft and hydrated.
Apply Nail Polish: Once your nails are dry and smooth, apply a base coat of your chosen nail polish, and finish with a top coat for added shine and durability.
DIY Pedicure:
Gather Your Tools: Similar to a manicure, you'll need tools like a nail file, clippers, cuticle remover, a nail buffer, nail polish remover, cotton balls or pads, and your preferred nail polish.
Soak Your Feet: Fill a basin with warm, soapy water and soak your feet to soften the skin and nails. Use a pumice stone or foot file to remove calluses and rough spots.
Nail Care: Trim and shape your toenails, and gently push back the cuticles. Be careful not to cut too short to avoid ingrown nails.
Exfoliate: Use a foot scrub to exfoliate your feet, focusing on the heels and soles.
Moisturise: Apply a nourishing foot cream or lotion to keep your feet soft and smooth.
Polish Your Toenails: Apply a base coat, your chosen nail polish, and finish with a top coat for a professional finish.
Pros and Cons of DIY Manicure and Pedicure vs. Professional Services
Pros of DIY Manicure and Pedicure:
Cost-effective: DIY manicures and pedicures save money on salon visits.
Convenience: You can do your manicure and pedicure at your own pace and on your schedule.
Learning experience: You'll become more skilled with practice.
Customization: You can choose your own colours and styles.
Cons of DIY Manicure and Pedicure:
Skill required: Achieving salon-quality results may take time and practice if you want to do a DIY manicure and pedicure.
Limited tools: Home kits for DIY manicures and pedicures may not offer the same range of products as a professional salon.
Time-consuming: Doing your own manicure and pedicure can be time-intensive.
Risk of mistakes: Errors while doing your own manicure and pedicure can be frustrating and may require professional correction.
Hygiene and Sanitation in Manicure and Pedicure
When you step into Tres Chic Beauty Bar for a manicure or pedicure, you can rest assured that your well-being is our top priority. We adhere to strict hygiene and sanitation standards to create a safe and clean environment for our clients. Here's what you can expect:
Sterilised Tools: All our tools for manicures and pedicures, including nail clippers, files, and cuticle pushers, undergo rigorous sterilisation processes after each use. This ensures that there is no risk of cross-contamination between clients.
Disposable Liners: For manicure and pedicure services, we use disposable liners in our foot baths to prevent any contact between your feet and the tub. This eliminates the risk of infections and ensures a fresh, clean start for each client.
Fresh Towels and Linens: We provide fresh, laundered towels and linens for every client. This prevents the spread of bacteria and ensures a comfortable and hygienic experience.
Regular Cleaning: Our manicure and pedicure workstations and equipment are cleaned and sanitised regularly throughout the day. High-touch surfaces are disinfected to maintain a clean and safe environment.
Single-Use Products: When applicable, we use single-use items such as disposable nail files and buffers to maintain hygiene standards during manicure and pedicure services.
Handwashing and Glove Use: Our manicure and pedicure technicians follow strict handwashing protocols and wear disposable gloves during the service to minimize any potential contact with germs.
Sanitisers and Disinfectants: We use hospital-grade sanitisers and disinfectants to clean and sanitize our tools, equipment, and surfaces, ensuring a germ-free environment while doing your manicure and pedicure.
Client Education: We also educate our clients on proper nail care and hygiene practices to maintain healthy nails between salon visits.
Why Choose a Professional like Tres Chic Beauty Bar:
While DIY manicures and pedicures can be fun and cost-effective, there's no denying the expertise and pampering you receive at a professional salon like Tres Chic Beauty Bar. Here's why you should consider a professional service:
Quality Products: Salons use high-quality products and a wide range of colours and styles.
Expertise: Trained manicure and pedicure technicians at Tres Chic are skilled in nail care, ensuring top-notch results.
Hygiene: Professional salons adhere to strict hygiene standards, reducing the risk of infection.
Relaxation: Enjoy a relaxing and luxurious experience that's hard to replicate at home while doing your manicure and pedicure.
Time-Saving: Save valuable time and effort by letting professionals work their magic.
Customization: Professionals can create intricate nail art and designs tailored to your preferences.
When it comes to experiencing the ultimate manicure and pedicure in Lekki, Lagos, Tres Chic Beauty Bar is your go-to destination. Our skilled technicians are dedicated to making your nails and feet look and feel their best. We understand that nail care is more than just a beauty ritual; it's about self-care and confidence.
What to Expect During Your Visit
At Tres Chic Beauty Bar, we want your visit to be an unforgettable experience. When you step through our doors, you can expect the best nail care and pampering. Here's a glimpse of what awaits you:
Warm Welcome: Our friendly and professional staff will greet you with a warm smile and make you feel right at home. We value your comfort and strive to create a relaxing atmosphere.
Consultation: Your journey with us begins with a brief consultation. We'll discuss your nail goals, preferences, and any specific concerns you may have. This ensures a customized experience tailored to your needs.
Sanitation: Your health and safety are our top priorities. We adhere to strict sanitation practices, using sterilized tools and disposable liners for the chairs, providing you with a worry-free experience.
Tailored Treatments: Whether you choose a basic manicure or a spa pedicure, our skilled technicians will perform each step with precision and care. You can trust that your nails are in expert hands.
Relaxation: Prepare to unwind and indulge in sheer relaxation. Our spa pedicures include soothing foot soaks, massages, and optional extras like paraffin wax treatments to leave you feeling utterly rejuvenated.
Artistry: If you opt for nail art or unique designs, our talented artists will turn your nails into a canvas. Expect intricate patterns, vibrant colours, and stunning details that reflect your style.
Quality Products: We use only high-quality nail products, including premium polishes, gels, and acrylics. You can count on long-lasting, chip-resistant results that stand the test of time.
Expert Advice: Our technicians are more than nail artists; they're also educators. You'll receive expert advice on nail care and maintenance to keep your nails looking their best between visits.
Clean, Cozy Environment: Our salon is designed for your comfort. Enjoy a clean and cosy atmosphere where you can relax and escape the hustle and bustle of everyday life.
Friendly Atmosphere: We believe that a positive and friendly environment enhances your overall experience. Feel free to ask questions, chat, or simply enjoy the tranquil ambience.
Beautiful Results: When you leave Tres Chic Beauty Bar, you'll do so with beautifully groomed nails that reflect your unique style and personality. Expect compliments and confidence to follow.
Booking Convenience: We make it easy for you to schedule your appointment. Just send us a message on WhatsApp at https://wa.me/2347081703814, and we'll find a time that suits your schedule.
Conclusion
In a world where first impressions matter, your hands and feet can speak volumes about you. Don't let neglected nails hold you back. Embrace the world of manicures and pedicures, and experience the transformation at Tres Chic Beauty Bar. Let us pamper you, boost your self-esteem, and keep your nails and feet in pristine condition. Say goodbye to dull and hello to chic!
Don't wait any longer. Take the first step toward beautiful, well-groomed nails by sending a message to Tres Chic Beauty Bar on WhatsApp at https://wa.me/2347081703814. It's time to treat yourself to the ultimate manicure and pedicure experience in Lekki, Lagos.